WhatsApp is presently one of the most popular messaging apps that allow users to text, share media, and call (voice & video calls). WhatsApp Messenger is an American freeware, cross-platform messaging, and voice over IP service owned by Facebook, Inc. Over 2 billion people in 180 countries use WhatsApp to stay in touch with loved ones and the good part is that it is FREE.
With the introduction of WhatsApp for Business, it is easier for businesses to connect with customers on the platform.
Another good thing is that you can connect your WhatsApp business account to your Facebook page. You can run Facebook ads that click to WhatsApp. So how do you connect your WhatsApp to your Facebook business page? Let's find out below.
1. Go to your Facebook page
Go to www.facebook.com, login, and navigate to your Facebook page.
2. Go to settings
Go to settings, look at the left sidebar, below you'll see a 'WhatsApp' tab, click on it.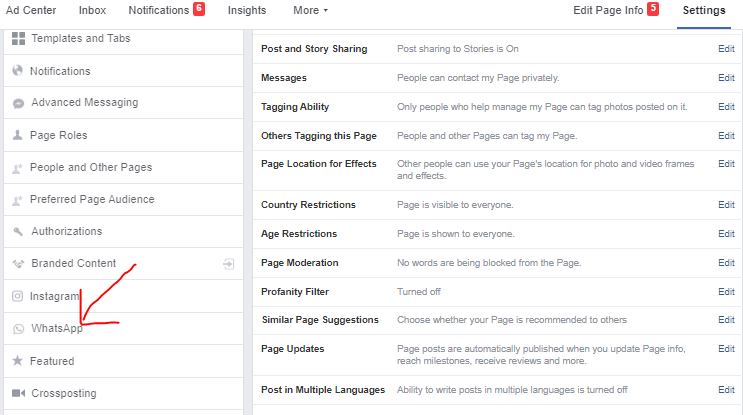 3. Connect your WhatsApp account
Choose your country code, Enter your WhatsApp or WhatsApp Business number, then check your WhatsApp messages for a confirmation code. Input code and click 'Confirm'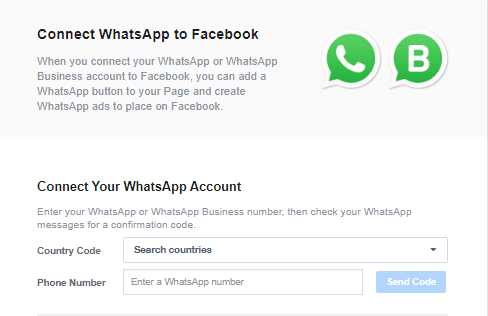 Conclusion
Here is a simple way to connect your WhatsApp number to your Facebook page.
When you connect your WhatsApp or WhatsApp Business account to Facebook, you can add a WhatsApp button to your Page and create WhatsApp ads to place on Facebook.
I hope you found this useful!
If you need help or guidance in improving your social media page(s), simply Contact Us. We'd be happy to assist. Do you have questions or comments concerning social media management? Please feel free to leave a reply below.